We offer a wide variety of underground services, including excavation services.
At GP Associates, Inc., we are a well-known company for underground services, such as underground utility installation and fiber optic cable installation. While this is our main focus, we are also well-equipped to provide other types of excavation services, including directional boring, hydro-excavation, underground jetting or trenching, and more.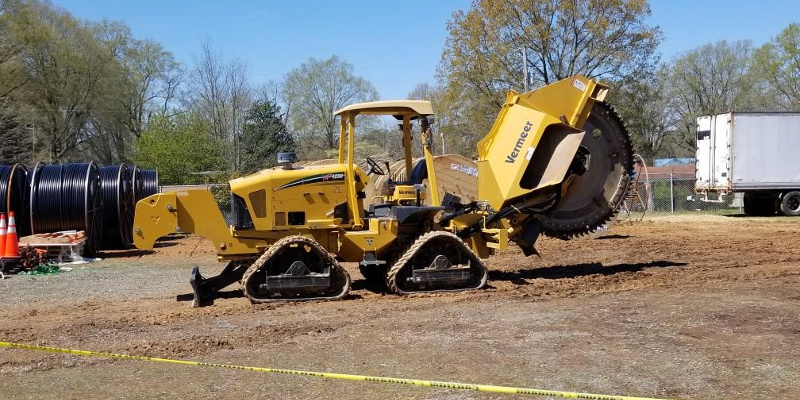 We first offered our excavation services in North Carolina and have now expanded to several other states in our quest to be the preferred contractor serving the eastern seaboard. We have completed projects in Ohio, North and South Carolina, Georgia, and Florida, and can provide underground services in Pennsylvania, Maryland, Virginia, Tennessee, West Virginia, New Jersey, and others. We have more than 33 years of experience servicing our customers in the Raleigh, North Carolina area, with excavation services and are confident we can achieve your project's objectives to your complete satisfaction.
When it comes to our excavation services, no job is too small or too large for our talented team and equipment capabilities. We are always happy to meet with a new customer to go over the details of an upcoming project and be a part of the planning to ensure everything goes smoothly. We look at every project in detail before we begin so that the best policies and protocols can be utilized for optimal results.
If you have any questions about our excavation services or our other underground services, don't hesitate to reach out to us. We are confident we can handle your new project from start to finish and get it completed on time and on budget. Call today to learn more.
FAQs About Our Excavation Services
Our team at GP Associates, Inc. has extensive experience in excavation, and you can count on us to help with all your excavation needs. If you have questions about our excavation services, keep reading to find the answers you need.
What types of excavation services do you offer?
Our team offers a wide variety of excavation services designed to help you complete many different projects. You can turn to us for help with directional boring, underground trenching and jetting, hydro-excavation, and more. If you have a project that requires excavation services of any kind, we encourage you to give us a call to find out more about how we can help.
What should I do to prepare my site for excavation services?
While preparing for excavation services is important, you will be relieved to know that it is actually pretty straightforward. All we need you to do is make sure we can get to the site easily and that nothing will be in the way while we work. If there are obstacles you can't remove for whatever reason, simply inform our team of their presence so we can be prepared to deal with them. Our experts will handle all the locating and marking of your underground utilities.
What are your excavation services used for?
Our excavation services can be used for a variety of applications. For example, we specialize in installing underground utilities, and we can provide the directional boring services you need to prepare your site for new fiber optic cable and more.
---
At GP Associates, Inc., we offer excavation services for customers in Knightdale, Raleigh, and Durham, North Carolina, and all along the Eastern Seaboard, including Ohio, North Carolina, South Carolina, Georgia, Florida, Pennsylvania, Maryland, Virginia, Tennessee, West Virginia, and New Jersey.
Similar Services We Offer: