We are equipped to handle fiber optic cable splicing for both aerial and underground systems.
Fiber optic cable splicing is a necessary skill for both the installation of new fiber optic cable and if existing cable has been damaged. At GP Associates, Inc., our certified fiber splicing technicians have undergone extensive training and testing to be certain that they provide optimal results for our customers. Whether you are a homeowner in Knightdale, North Carolina, needing to put in fiber optics to replace a damaged line, a utility company involved in expansion, or you have a different need for fiber optic cable splicing, our company is equipped to handle the job efficiently and accurately.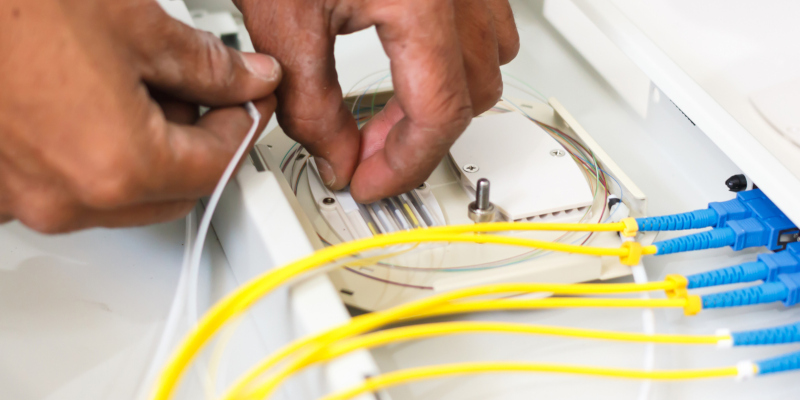 Fiber optic cable splicing is different from other types of cable splicing. For example, if a power line isn't spliced properly, it simply doesn't transmit power. If a water line isn't connected properly, water doesn't flow past the connection. However, with fiber optic cable, a splice may permit transmission if not spliced properly, but have significant light losses and unsatisfactory results. It is necessary to perform testing to be sure the splicing has been properly implemented.
There are two types of fiber optic cable splicing – fusion and mechanical. Each has advantages and, in both cases, testing should be done to ensure there hasn't been a significant loss in the splicing process. You can rest assured that we take diligent care when completing fiber optic cable splicing and perform the necessary tests to be sure each splice is accurate.
If you have any questions about fiber optic cable splicing for aerial or underground fiber optic cable systems, don't hesitate to reach out to us.
---
At GP Associates, Inc., we offer fiber optic cable splicing services for customers in Knightdale, Raleigh, and Durham, North Carolina, and all along the Eastern Seaboard, including Ohio, North Carolina, South Carolina, Georgia, Florida, Pennsylvania, Maryland, Virginia, Tennessee, West Virginia, and New Jersey.
Similar Services We Offer: