We are equipped to handle fiber optic cable splicing for both aerial and underground systems.
Fiber optic cable splicing is a necessary skill for both the installation of new fiber optic cable and if existing cable has been damaged. At GP Associates, Inc., our certified fiber splicing technicians have undergone extensive training and testing to be certain that they provide optimal results for our customers. Whether you are a homeowner in Raleigh, North Carolina, needing to put in fiber optics to replace a damaged line, a utility company involved in expansion, or you have a different need for fiber optic cable splicing, our company is equipped to handle the job efficiently and accurately.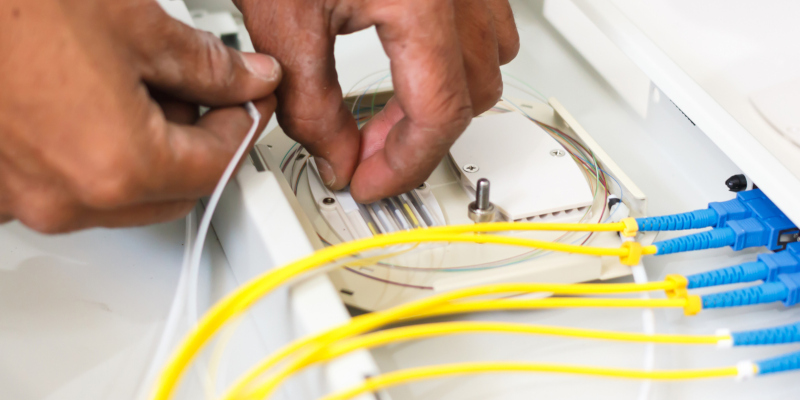 Fiber optic cable splicing is different from other types of cable splicing. For example, if a power line isn't spliced properly, it simply doesn't transmit power. If a water line isn't connected properly, water doesn't flow past the connection. However, with fiber optic cable, a splice may permit transmission if not spliced properly, but have significant light losses and unsatisfactory results. It is necessary to perform testing to be sure the splicing has been properly implemented.
There are two types of fiber optic cable splicing – fusion and mechanical. Each has advantages and, in both cases, testing should be done to ensure there hasn't been a significant loss in the splicing process. You can rest assured that we take diligent care when completing fiber optic cable splicing and perform the necessary tests to be sure each splice is accurate.
If you have any questions about fiber optic cable splicing for aerial or underground fiber optic cable systems, don't hesitate to reach out to us.
FAQs About Fiber Optic Cable Splicing
We at GP Associates, Inc. have extensive experience in the fiber optic industry, and you can count on us to help you with all your fiber optic projects. One of the many services we offer is fiber optic splicing, and we have put together this list of frequently asked questions and their answers to give you more information.
What is fiber optic cable splicing?
The term fiber optic cable splicing refers to the process of joining two cables together to extend the connection. Each cable is only so long, so if you need to connect two points that are farther away, you will need to chain multiple cables together.
How does fiber optic cable splicing work?
There are two main methods of fiber optic cable splicing. The first method is known as mechanical splicing, and it involves placing the ends of the two fibers inside a plastic sleeve that holds them together in precise alignment, which allows light to pass from one fiber into the next. The second method is called fusion splicing, and it involves using an electrical arc to melt the two cable ends together to join them.
Why should I come to you for my fiber optic cable splicing needs?
If you are looking for a team you can trust to deliver top-notch fiber optic cable splicing services, just give us a call. Our experts have been working in the field of fiber optics for many years, and you can count on us to provide the high-quality workmanship you are looking for.
---
At GP Associates, Inc., we offer fiber optic cable splicing services for customers in Knightdale, Asheville, Charlotte, Raleigh, and Durham, North Carolina, and all along the Eastern Seaboard, including Ohio, North Carolina, South Carolina, Georgia, Florida, Pennsylvania, Maryland, Virginia, Tennessee, West Virginia, and New Jersey.
Similar Services We Offer: